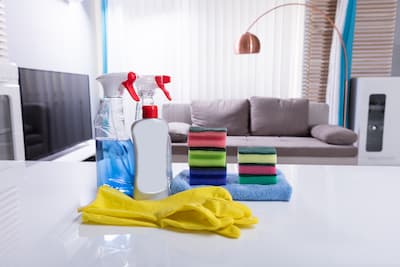 Pack First provides the best contents cleaning services for homeowners in all of Palm Beach Gardens. If your home has been damaged due to a storm, fire, or flood, let us help. Pack First work diligently to restore your residence and your property to its natural state. We offer sanitization and deodorization services so that your property can be safe and clean again. Our experienced contents cleanings pros are specially trained to provide quality service to customers. When you hire us, you are recruiting professionals who are committed to packing your contents and cleaning your home without harm.
A home that has been hit by a calamity is one of the hardest to restore, but no job is too big or small for the team at Pack First. We believe in our ability to revive your personalized goods promise to safely pack your items so that you won't feel like you've lost everything. You can trust us to clean and sanitize your home and get rid of lingering odors that may have been caused by a fire or water damage that has ruined your carpet and upholstery.
The Most Valuable Contents Cleaning Company In Palm Beach Gardens
The service you receive from Pack First is unique in that the quality of our work is second to none. We strive to be the most valuable contents cleaning professionals in Palm Beach Gardens. Our experts use only the best technology to clean your home and store your contents while your property gets back to a livable state.
Our company is the most suitable contents cleaning service in Palm Beach Gardens, ensuring that your home gets quality attention that gives it a restored appearance. We also offer emergency services, which is important when you need your personal contents saved quickly after an unexpected calamity.
If you are overwhelmed due to an unforeseen catastrophe to your home, make an appointment today with Pack First for a contents cleaner in Palm Beach Gardens. Allow an expert to come in and assist with salvaging your personal items and exterior to components to your home.
If you are looking for Palm Beach Gardens contents cleaning, then please call 561-929-8687 or complete our online request form.