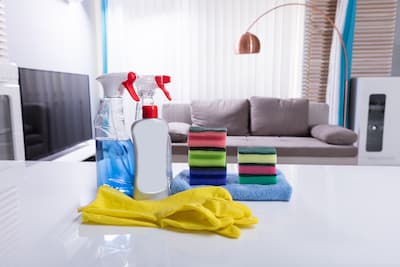 Professional sanitization is essential for keeping your South Florida workplace clean and healthy—which is of the utmost importance in the midst of COVID-19. Sanitization from an experienced professional will thoroughly remove all manners of harmful things from your workplace:
Bacteria
Viruses
Unpleasant odors
By removing the above-mentioned buildups, sanitization services will result in many practical and health-related benefits that you'll enjoy right off the bat. Here are just three of the benefits you'll enjoy by staying on top of your sanitizing needs:
Reducing Loss of Productivity
A dirty workplace creates a domino effect of illness in the workplace, and when enough of your employees wind up calling out sick, you'll experience a substantial loss of productivity—and profit, of course. To avoid that problem, avoid sickness by having your workplace sanitized on a regular basis.
Keeping Your Team Members and Guests Safe
The health of your team members and guests is vitally important, and this means sanitization services are vital. With regular sanitization, you'll reduce the accumulation of harmful bacteria and other such issues in your workplace, ensuring your workplace will be as safe as possible for them.
Doing Your Part for Your Community
We live in unprecedented times, and we must all do our part to keep not only ourselves but also our communities safe and healthy. By sanitizing your place of business, you'll help to stop the spread of COVID-19—a major way to do your part for the health of yourself, your friends, and your neighbors.
Look to Our South Florida Team for All of Your Professional Sanitization Needs
For the most dependable sanitization services in the South Florida area, look to none other than Pack First. In addition to our cleaning and packing services, we also offer sanitizing work that's guaranteed to keep your workplace safe and your community healthy. Call our sanitizing experts today to schedule a consultation for your next professional sanitization.
We make it our mission to provide our clients with the highest standard of workmanship and customer care in the area. Don't just take our word for it, though: Check out our customer reviews page instead to get a firsthand idea of the quality of work we always provide. For more information about our products and services, don't hesitate to contact us today online or over the phone.
Give us a call for your free estimate on our content pack in & pack-out services today!
If you want to invest in professional sanitization services, then please call 561-929-8687 or complete our online request form.