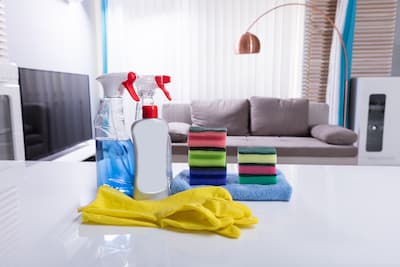 If you choose Pack First to thoroughly handle sanitization & deodorizing your home in West Palm Beach, you'll be more than happy with the results. Our local team members will meet with you to determine the best course of action for your property. Our goal is to ensure you receive the maximum efficiency from our sanitization & deodorizing process.
Sanitization Professionals
The specialists at Pack First offer a variety of sanitization & deodorizing solutions that can help you keep your home or business clean and ready for restoration. We often utilize a hydroxyl generator for room deodorization. This type of generator is known to be a million times more sensitive than traditional ozone generators and is known for the wide range of pathogens it breaks down. We understand that pandemic or not, it's always a good idea to hire a professional to keep your home and business clean and healthy. At Pack First, it's our top priority to eliminate any evidence of a disaster through full recovery, restoration, and clean up.
We hope that you allow our contents cleaning pros to give you a detailed sanitization & deodorizing service so that we can restore a little bit of normal in your life. Give us a call about all of our services and speak with a professional leaning expert or restoration contractor. We are ready to provide the best sanitization & deodorizing needs to your place of residence in West Palm Beach!
---
---
If you are looking for skilled sanitization & deodorizing specialists in the West Palm Beach area, then please call 561-929-8687 or complete our online request form.